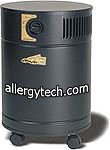 AllerAir 6000 DXS
Covers 1500 sq. ft.
(40' x 40')



AllerAir 6000 DXS Air Purifier Features the Tar-trapping Prefilter, MicroHEPA Filter and Oversized Carbon Bed Canister with Extra Deep 3.5" Bed to Achieve the Superior Filtration Efficiency for Particles, Chemicals, Fumes and Tar in a Cigarette (Tobacco) Smoke in Areas up to 1600 sq. ft.
AIR FILTRATION SYSTEM
Separate(!) True HEPA Filter and Activated Granular Carbon Canister.
HEPA Type Filter traps 99.00% of dust, allergens, dust mite debris, pollen, pet dander, mold and plant spores, asbestos dust, bird feather dust, etc. down to 0.3 micron in size.
Over 32 lbs. of Activated MAC-B™ Executive Mix Adsorbent provides the Enhanced adsorption of over 4000 Chemicals in Cigarette Smoke, Stale Tobacco Odors, light VOCs and other Chemicals.
Oversized canister with Extra Deep 3.5" carbon bed increases the dwell time for polluted air and significantly improves the overall Adsorption Efficiency.
Pre Filter traps large dust and dirt particles and extends HEPA filter's lifetime.
2 Anti-Microbial Filters inhibit growth of odor causing bacteria.
Anti Microbial filters also trap dust from granular carbon.
Top and bottom Vacuum Seal Rubber Gaskets eliminate polluted air bypass.
REPLACEMENT FILTERS
AllerAir 6000 DXS Air purifier Comes Fully Assembled with All Filters Installed and Ready-to-Use.
FILTERS LIFETIME: (under normal residential conditions)
HEPA Type Filter - 1 to 3 Years.
Activated Carbon Filter Canister - 1 to 3+ Years. (Refillable)
Pre Filter - 4 to 6 months (pull out, vacuum and replace).
Separate HEPA Type and Carbon Filters can be replaced Independently.
The Filters are Interchangeable with Filters from other models of the 56000 Series models.
PERFORMANCE
High Efficiency PSC Motor Ensures Safe and Quiet operation.
Centrifugal Fan and Air Dynamic profile help reduce the level of noise.
Level of Noise per Speed: Low/Medium/High - 35/55/65 dB.
Fan Rating: Low/Medium/High - 80/200/400 CFM (Cubic Feet per Minute).
Maximum cleaning area - 1600 sq. ft. @ 2 air changes per hour.
Recommended cleaning area - 800 sq. ft. @ 4 air changes per hour.
Power consumption: Low/Medium/High - 55/90/115 Watts.
FEATURES
Integrated 3-Speed On/Off comfort control fan in the upper deck of the unit.
Non off-gassing durable the all metal housing with baked-on powder coating.
Available in three textured colors to match your decor: Sandstone, Pewter, Black, Copper, White, Silver.
Clean air outlet in upper deck of the unit allows for directional air flow.
Four Wheel Casters on bottom panel allow for easy movement from room to room.
WARRANTY
Manufacturer's Limited Warranty:
- 5 Years, Parts and Labor
- 10 Years, Parts Only.
DIMENSIONS
Dimensions (Diameter, Height): 15" x 23.5"
WEIGHT
Product Weight - 64 lb.